Dutch Junior rider Freek Bouten will join the KMC Mountainbike Racing Team in 2024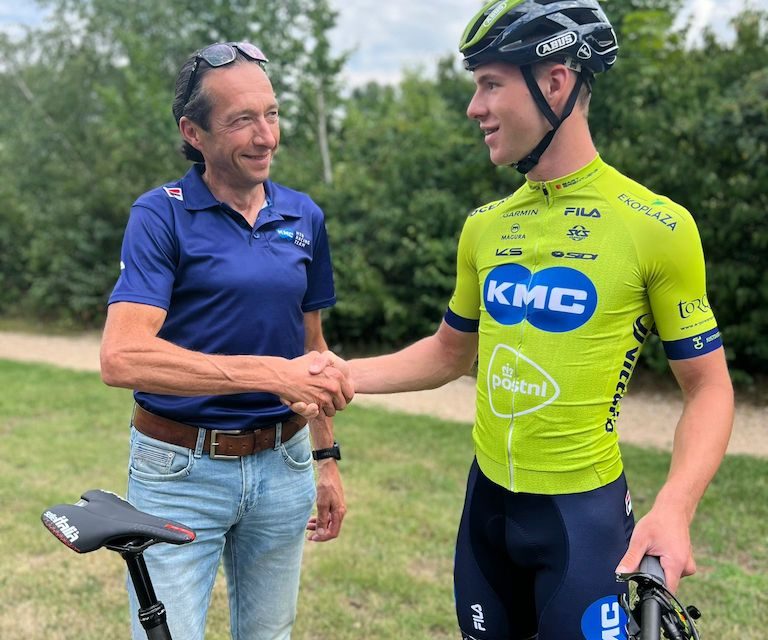 Dutch Junior rider Freek Bouten will join the KMC Mountainbike Racing Team in 2024
– World Championships Mountainbike in Glasgow already on Ridley KMC Team Edition bike –
Freek Bouten, Junior rider from The Netherlands, will ride his first season in the U23 category next year for the KMC Mountainbike Racing Team. At the UCI World Championships Mountainbike in Glasgow that will take place from August 6 till 12, he will already ride with the official Ridley KMC Team Edition mountainbike.
The last part of the 2023 season will be a kind of warming-up for Freek and our Team, before Freek is officially joining the team January 1st, 2024.
Freek (DOB June 6, 2005), showed consistent races and strong results the last months. Besides winning the Junior Series in Lons-le-Saunier France, Freek also won Silver at the European Championships XCO. Freek is very driven and would like to become an international top mountainbiker joining the Olympic Games.
Freek Bouten, silver medal winner at the European Championships XCO 2023:
"It was always my dream to become a mountainbiker. Bart once told me: "If you want to become one, you need to ride real fast", so I did.
Talking to Bart is easy. Bart understands what it is to be a mountainbiker.
I'm thrilled to get the opportunity to join the team".
Bart Brentjens, Team Manager of the KMC Mountainbike Racing Team:
"As a team, we are always looking for talented riders. Freek Bouten is very talented, which he has already proven several times this year at a high level. Freek has chosen to become a professional mountainbiker and we would like to help him with that. The fact that Freek is from Limburg and comes from the same environment as where I was born is a nice fact".
#AllezParis2024
– One year to go to the Olympic Mountainbike races on July 28 and 29 –
Related Post
David Nordemann, current Dutch National Champion XCO Elite, has decided to end his professional mountain
Read More