Norwegian talent U23 rider Ole Rekdahl is joining the KMC Mountainbike Racing Team in 2023!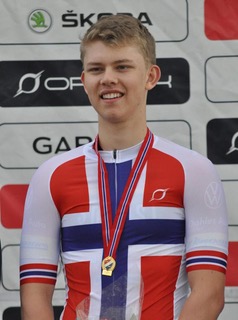 Huisseling, The Netherlands
December 14, 2022
Ole Sigurd Rekdahl, Norwegian Elite Champion XCC 2022, will join the KMC Mountainbike Racing Team in the new 2023 mountainbike season. 
The 21 year old rider living in Halden, Norway and Teammanager Bart Brentjens are both excited to start 'working' together in the KMC Mountainbike Racing Team. 
Bart Brentjens, Teammanager KMC MTB Racing Team 2023:
"As a team we always pay close attention to young talents. Ole is such a talent. He will be one of our U23 riders together with Sasha Hudyma. 
Ole is extremely talented and driven and has a lot of potential for the future. Norway has always had strong mountainbikers and – as a country – invests a lot in the mountainbike sport. 
Ole is a rider who has the potential to go to the Olympic Games for Norway in Paris 2024. He has that talent. He is already Norwegian Elite XCC champion at his young age and in 2023 the U23 riders will also get their own UCI World Cup XCC. As a Team we see a lot of possibilities for Ole to perform real good in his category. I look forward to working together starting in January!"
Ole Rekdahl, International mountainbiker and Norwegian Champion XCC 2022:
"I am super happy to announce that I will become a part of KMC MTB Racing Team. Grateful to get the opportunity to be working closely together with a team that shares the same values and interests. 
To become a professional rider for KMC MTB Racing Team is something special, and I am proud to announce I will be racing for the team in 2023."
#AllezParis2024
Related Post
Huisseling, The Netherlands December 6, 2022 We are proud and happy to announce that from January 1,
Read More