KMC new main and name sponsor for the international mountainbike team of Bart Brentjens! On Ridley mountainbikes to Paris 2024!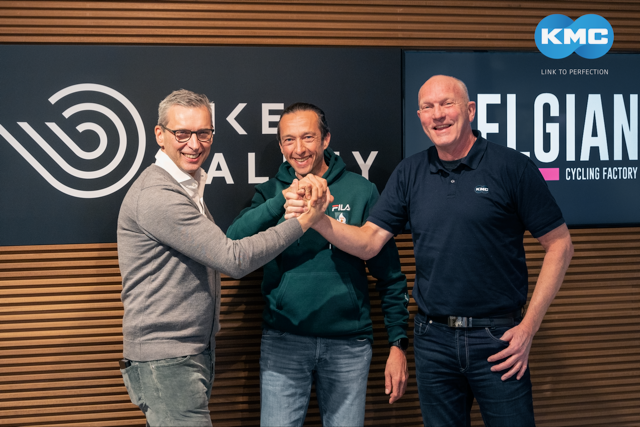 Huisseling, The Netherlands
December 6, 2022
We are proud and happy to announce that from January 1, 2023, KMC will be 'our 'new main sponsor of the mountainbike team. We will also continue the route to the Paris 2024 Olympic Games on Ridley mountainbikes from January 1. 
Bart Brentjens, Team Manager 'KMC MTB Racing Team 2023': 
"I am proud that KMC will be the main sponsor of our international mountainbike team from 2023, on the way to the Olympic Games in Paris 2024. KMC, the largest chain producer worldwide, has been 2017 a loyal and committed sponsor of the Team.
Christ Bakker, Managing Director KMC Chain Europe, indicated a few months ago that KMC would like to continue with our Team, as the main sponsor, on the way to Paris 2024. We entered into a conversation with each other, which resulted in a new set-up of the Team and a dynamic collaboration that we as a Team look forward to. 
We also spoke with the current name sponsors CST, PostNL and Bafang. PostNL will remain Team sponsor on the way to the Olympic Games in 2024. 
After a long collaboration of 14 years, CST will say goodbye to the Team at the end of 2022. 
Bafang had indicated earlier in the year to end the collaboration, they have opted for a different sponsorship strategy. Partly thanks to the cooperation with CST and Bafang as name sponsors, we have achieved countless great achievements together in recent years and we are grateful for that. 
In addition to the arrival of KMC as main sponsor, the Team will start riding with a new bicycle partner in 2023, Ridley Bikes. 
Ridley, founded in 1997 and Belgium's largest bicycle manufacturer, makes high-quality innovative bicycles. A company that can 'switch', develop and deliver quickly.
Ridley has been known and successful for many years in competitive sports, both on the road and in cyclocross. Now they also aim their arrows at the mountainbike sport. Last October, Ridley launched two new high-performance innovative mountain bikes that perfectly match the ever-evolving international mountainbike competition. 
I look forward to joining forces with the Team, KMC and Ridley, achieving great performances and achieving the Team goals together. This intention is very tangible and ensures that we follow the route to Paris 2024 together full of energy and confidence!"
Christ Bakker, Managing Director of KMC Chain Europe:
"Based on more than 45 years of experience in drive train technology KMC is the world's largest bicycle chain and drive train components manufacturer. 
We offer a full range of products serving all market needs from commuter e-bike to top level road racing and mountain biking.
"LINK TO PERFECTION" is our motto and is taken very seriously, KMC is active in all areas of cycling as a supplier and sponsor. Especially sponsorship is an essential part of KMC's success, as athletes are our harshest critics! The testing of products by world's best riders in the most demanding races in all disciplines leads to constant developments and new ideas for products and services.
It is thrilling to enter an exciting new phase in KMC's sponsoring era, the already existing co-operation with the legendary Bart Brentjens has now grown in to a full-fledged partnership.
The entire KMC team is very excited to commence on the new journey together with great supporters, like one of the most famous sports bike brands Ridley and so many other dedicated and renowned sponsors.
I am confident this family will write a new chapter in the XCO era."
Jochim Aerts, Belgian Cycling Factory: 
"Ridley already has a long and rich history in competitive sports. 
Our presence is a valuable breeding ground for our product development. For example, with Ridley we have been active for years at the highest level in road cycling and cyclocross. 
Thanks to the collaboration with the KMC MTB Racing Team, we are now also taking our first steps in World Cup MTB racing. 
We look forward to seeing our Raft XC and Probe RS in action at the highest level of MTB and can't wait to continue innovating our mountainbikes to help the KMC MTB Racing Team riders achieve their goals." 
#AllezParis2024 
Related Post
Huisseling, The Netherlands December 14, 2022 Ole Sigurd Rekdahl, Norwegian Elite Champion XCC 2022,
Read More