Dutch rider Jeroen van Eck will join the CST PostNL Bafang Mountainbike Racing Team!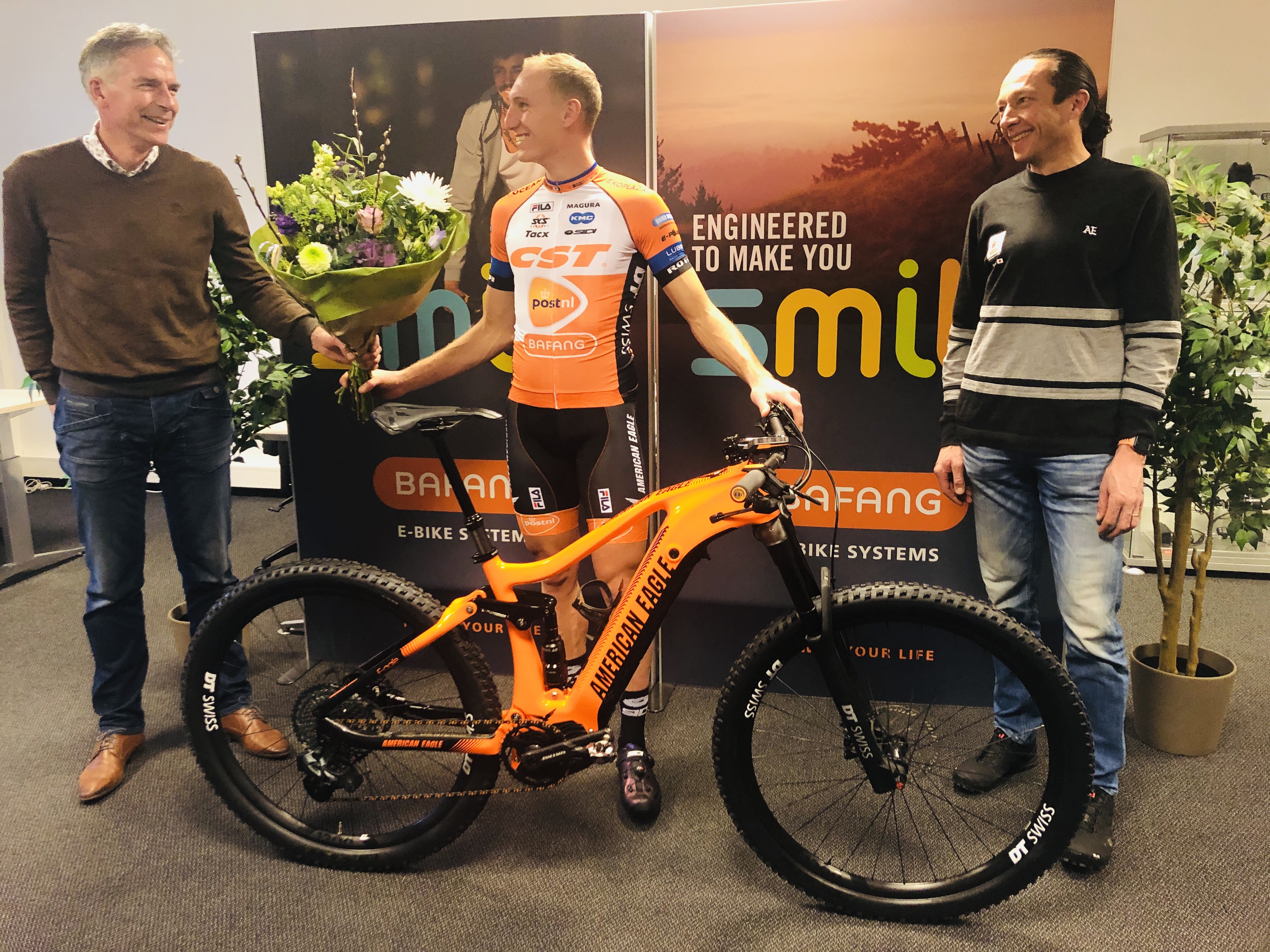 Dutch rider Jeroen van Eck will join the CST PostNL Bafang Mountainbike Racing Team!
We are happy to announce, Jeroen van Eck (the Netherlands DOB May 14, 1993) will join the CST PostNL Bafang Mountainbike Racing Team in 2021. Jeroen's main focus will be the international UCI E-Mountainbike competition.
Besides E-Mountainbike Jeroen will also compete in other UCI mountainbike disciplines like Eliminator and Cross Country. Jeroen will also be an important link in our partnership with Bafang to develop and improve the product,not only concerning team products but also the mass market products.
The popularity of the E-Mountainbike is growing enormously and fast. Not only with consumers, but also as a competitive sport. With his personality and skills, Jeroen van Eck will be a great ambassador representing the mountainbike sport in general, E-Mountainbike, our team, our team sponsors and suppliers. Jeroen for sure has 'passion for mountainbike'.
Jack Brandsen, Europe General Manager for Bafang Electric Motor Science Technology B.V.:
"Bafang is excited to have Jeroen as team member of the CST PostNL Bafang Mountainbike Racing Team. Jeroen is a very strong and experienced E-MTB rider who is capable of racing at the front.
This combined with his dedication and outstanding technical insight gives him the availability to deliver us proper feedback. This feedback wil help Bafang to further optimise the race systems. Our ultimate goal is to use this knowledge in our day to day products as well. We look forward to helping Jeroen and the team succeed!"
Bart Brentjens, Team Director CST PostNL Bafang MTB Racing Team:
"We are looking forward to work with Jeroen as our new E-Bike rider! After 2 great years working and pioneering in a new UCI discipline E-Mountainbike with our former E-Bike rider Kjell van den Boogert, it is challenging and exciting to start working together with Jeroen van Eck.
Jeroen is very ambitious, talented and always working towards the best results and conditions. A real professional with already an impressive palmares in several disciplines.
Jeroen became UCI World Cup Eliminator World Cup winner in 2018 and 2020, National Champion E-Mountainbike in 2019 and European Champion XCE (2015). Last year Jeroen finished 7th at the UCI E-Mountainbike World Championships.
Till so far Jeroen always had his own team. We hope Jeroen will feel happy and welcome in our Team with our riders and staff, and that the team structure will give Jeroen wings, just like our American Eagle bikes!"
Jeroen van Eck, Elite Men E-MTB and Eliminator, UCI World Cup Eliminator Overall Winner 2018/2020:
"After running my private team for the last three years, with the main goal to make the step from top talent to top athlete, my move to the CST PostNL Bafang MTB Racing Team is a great next chapter in my cycling career.
In this professional environment I can focus more on the sportive side with the main goal: winning the World Championships E-MTB. Working closely with Bafang and the team in making a medal winning bike and the further growth of the E-MTB discipline is something I look forward to."
Watch also this video of Jeroen van Eck on Youtube:  https://youtu.be/4AbfxQ_uVpQ
Related Post
At Sunday April 18th the Team was racing competition in Haiming, Austria.  In a strong field of riders,
Read More